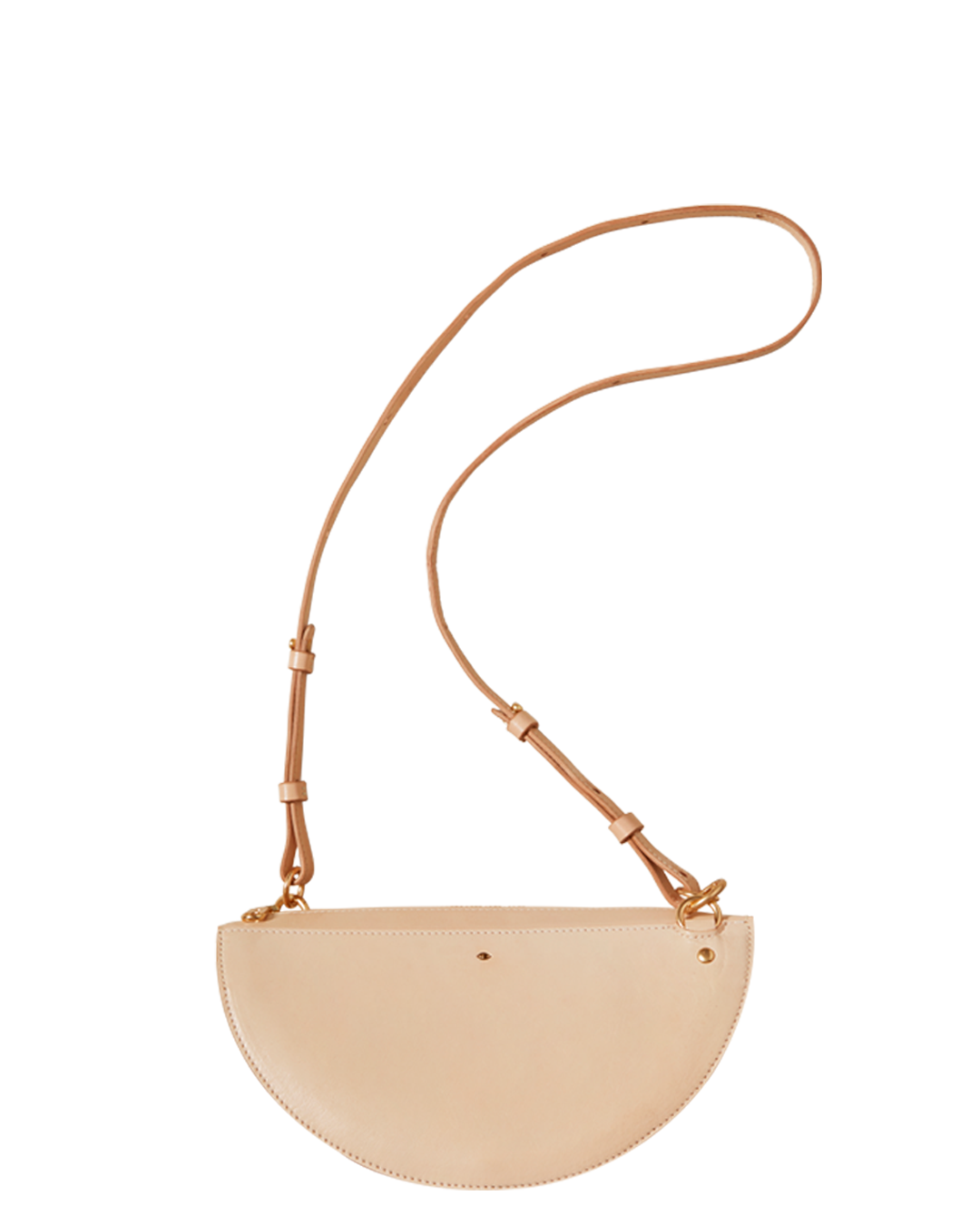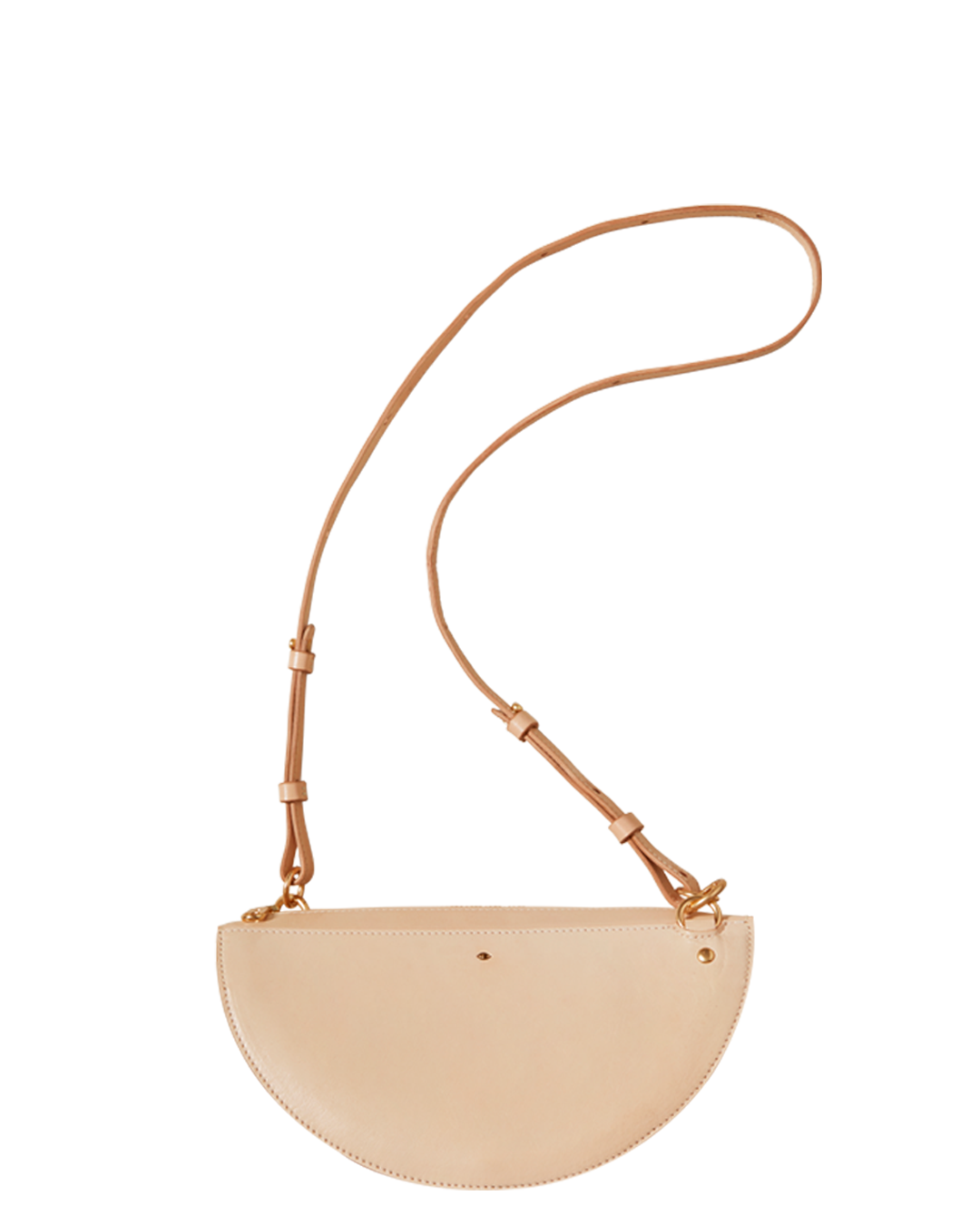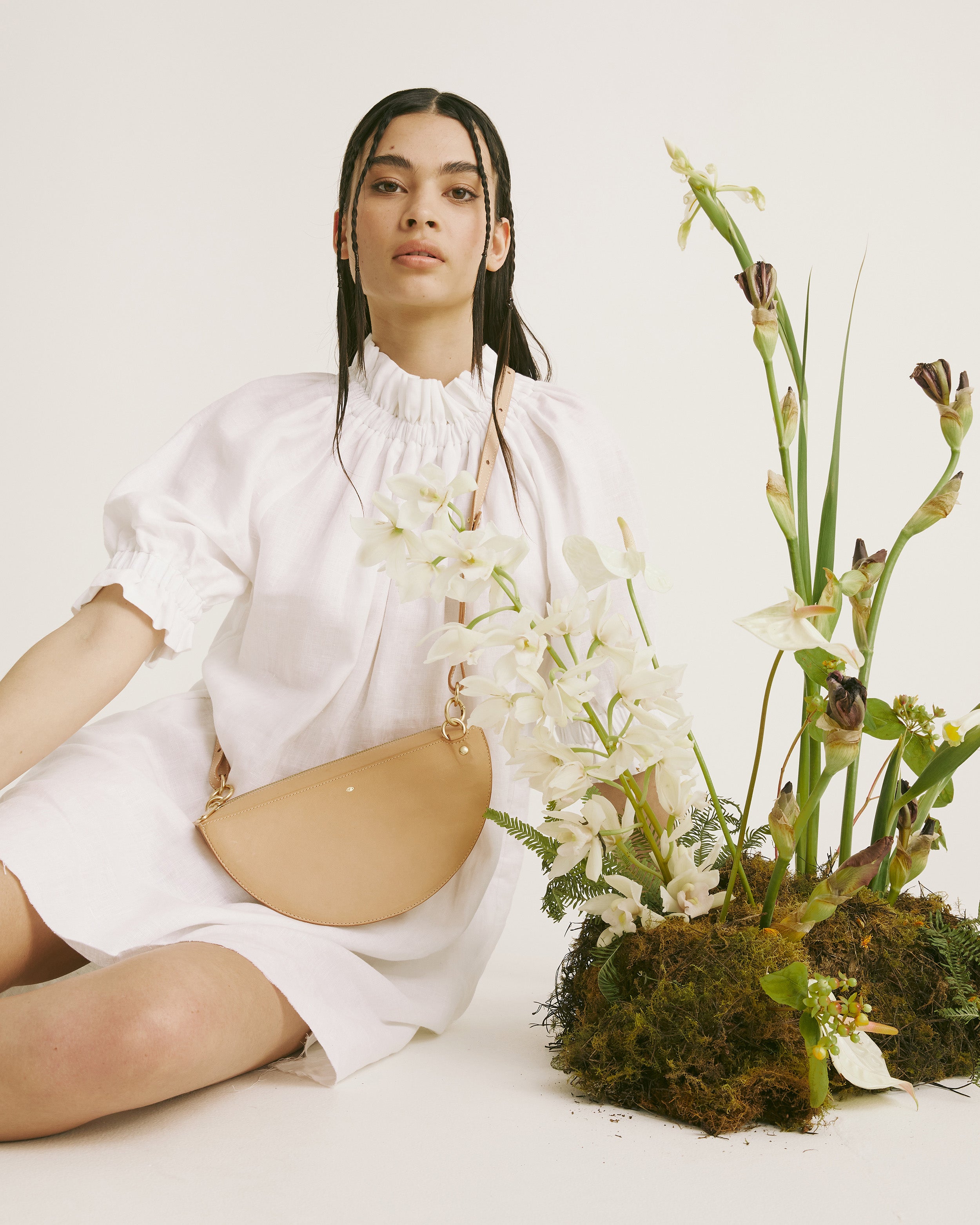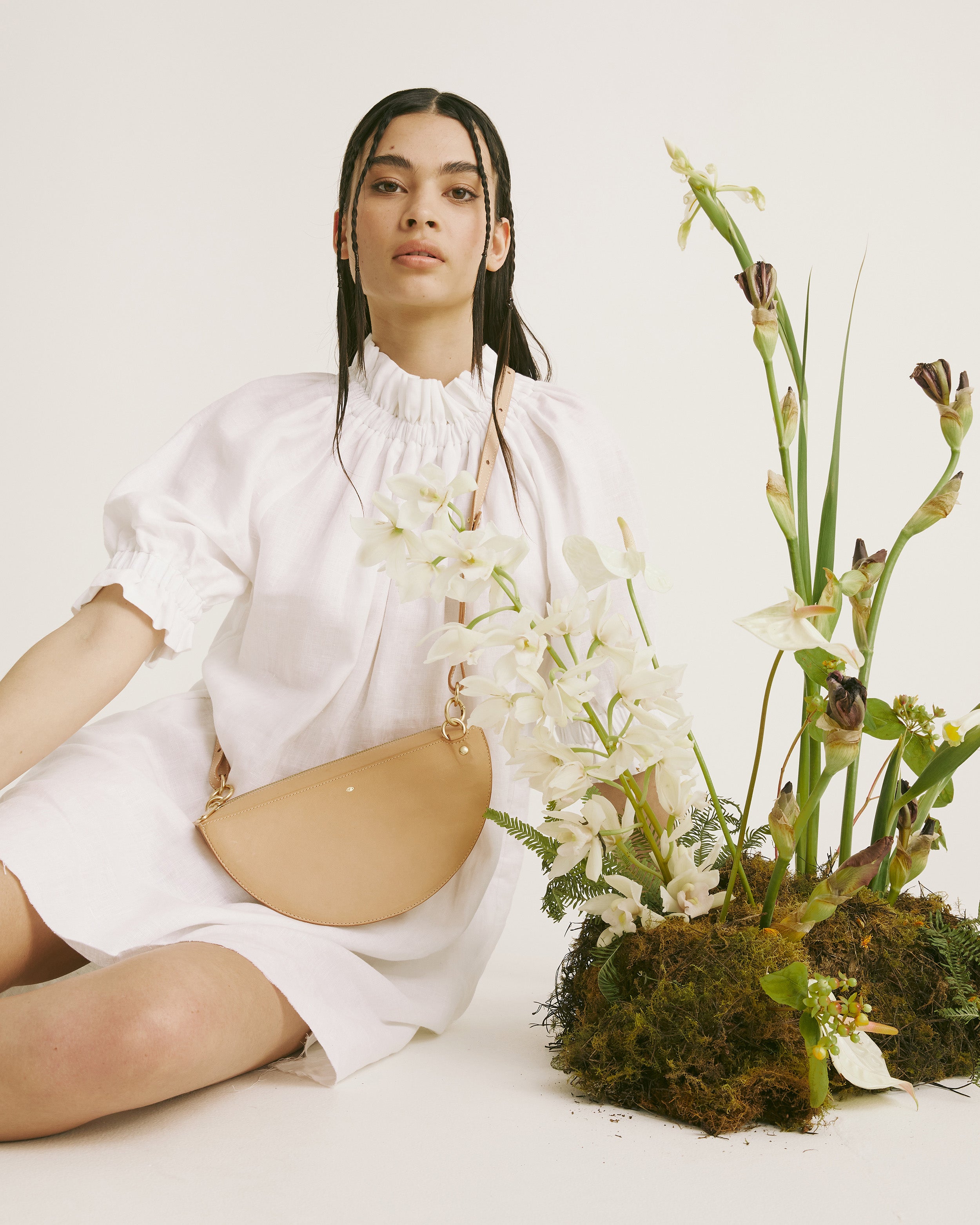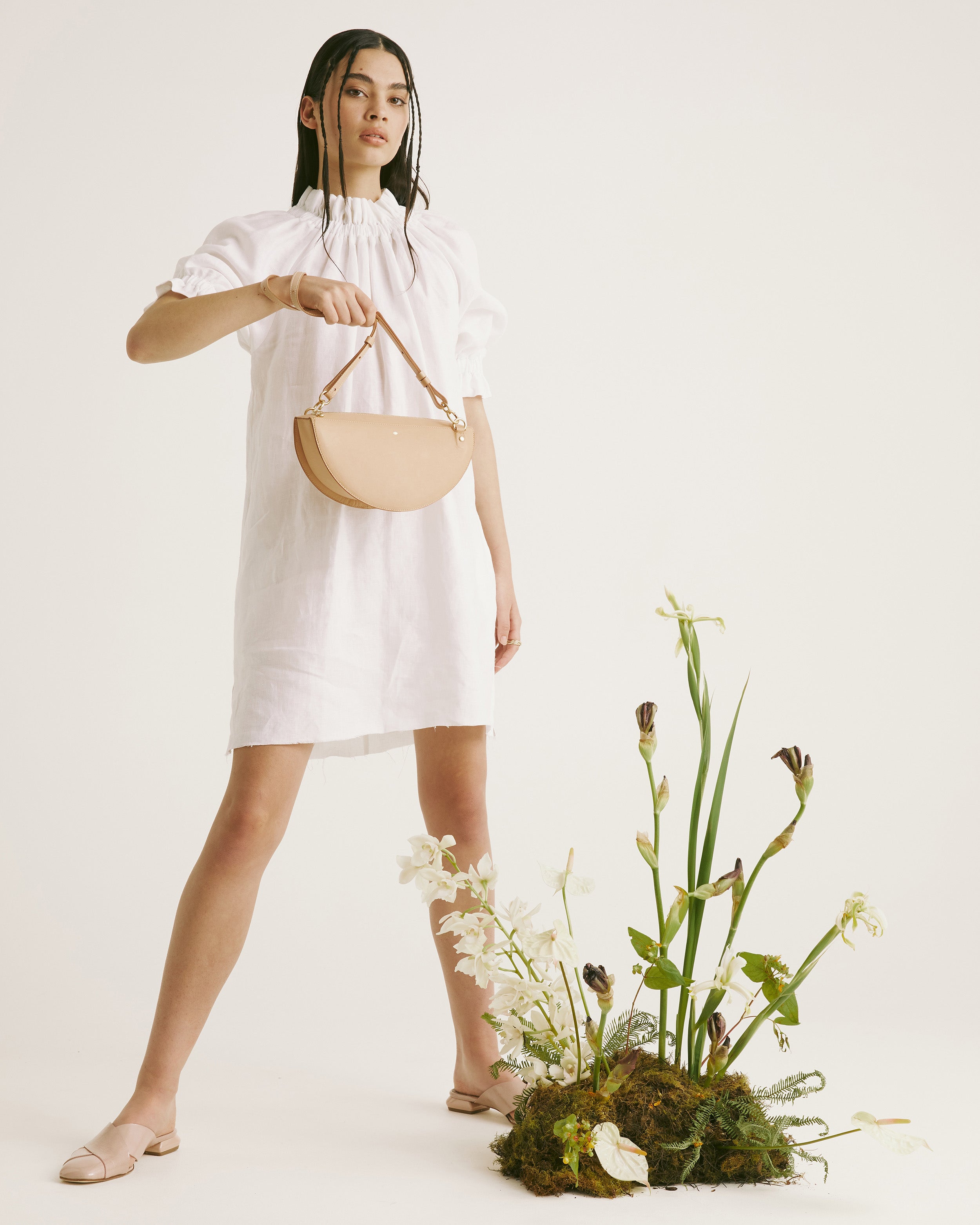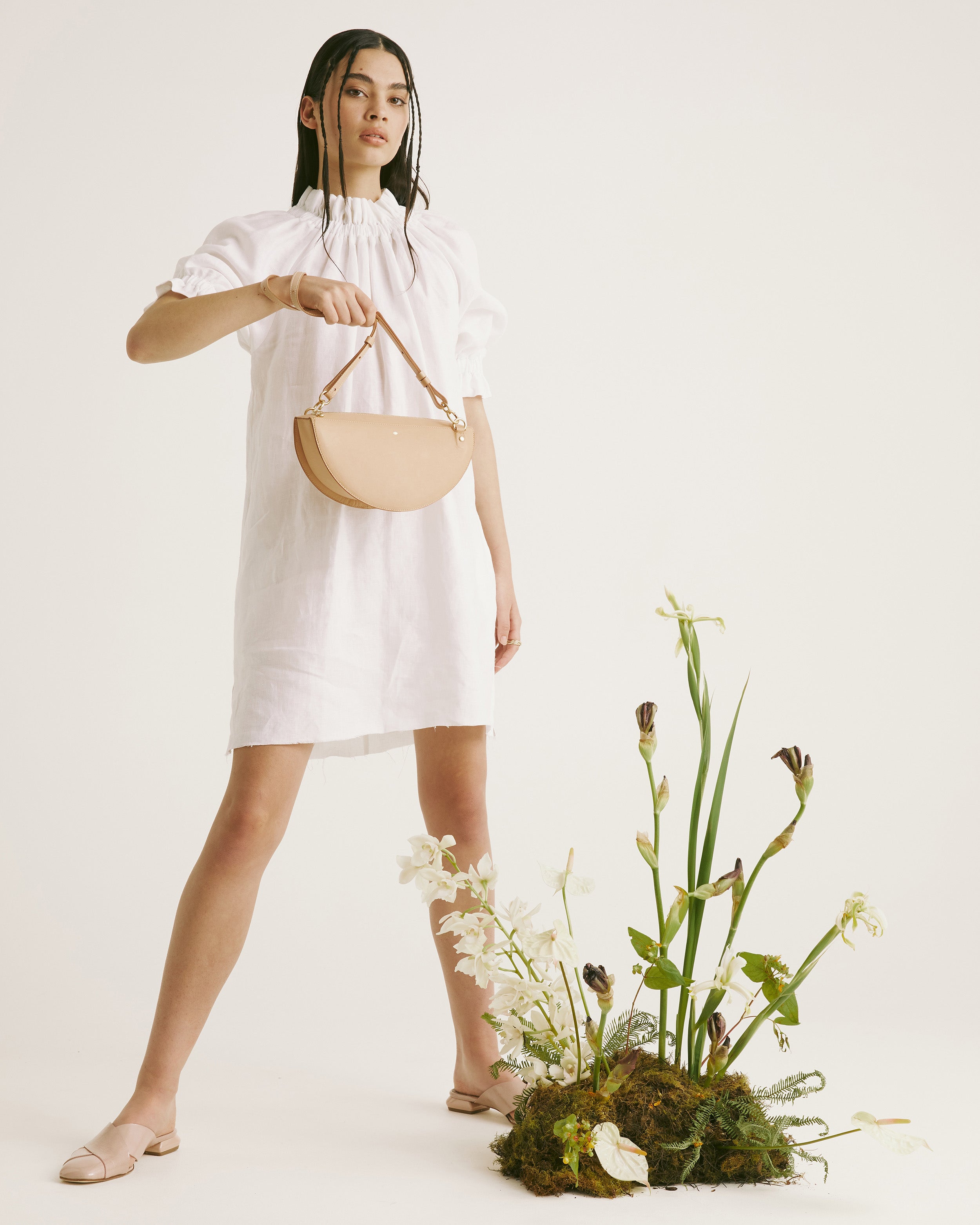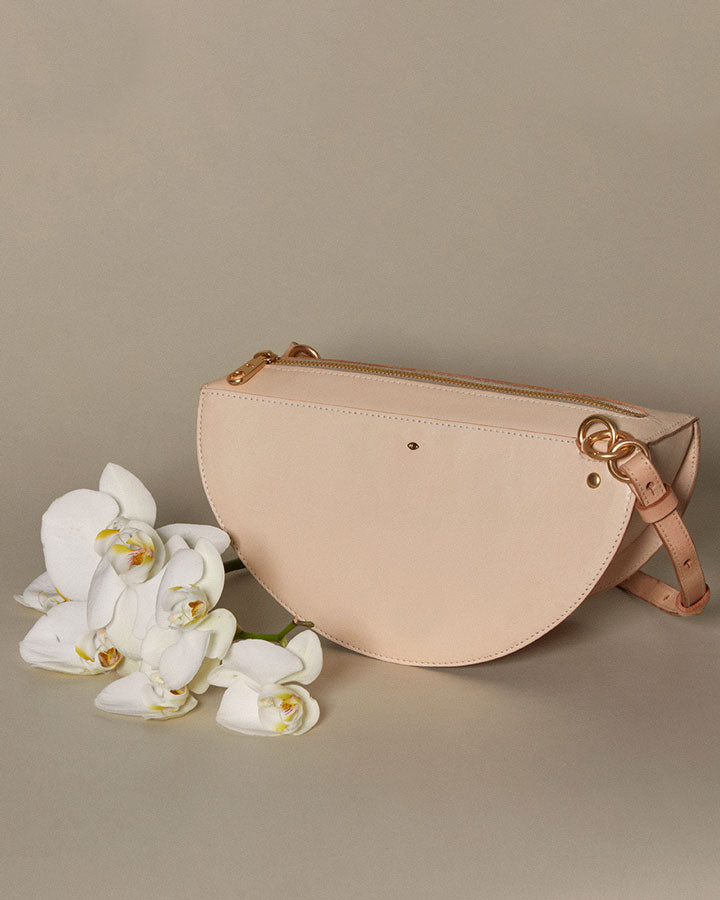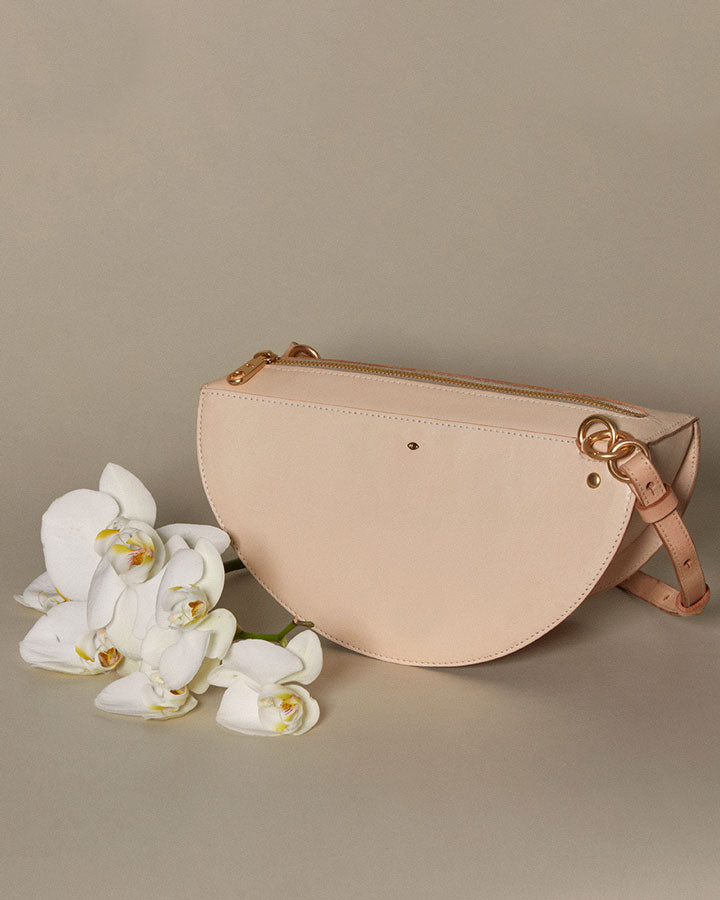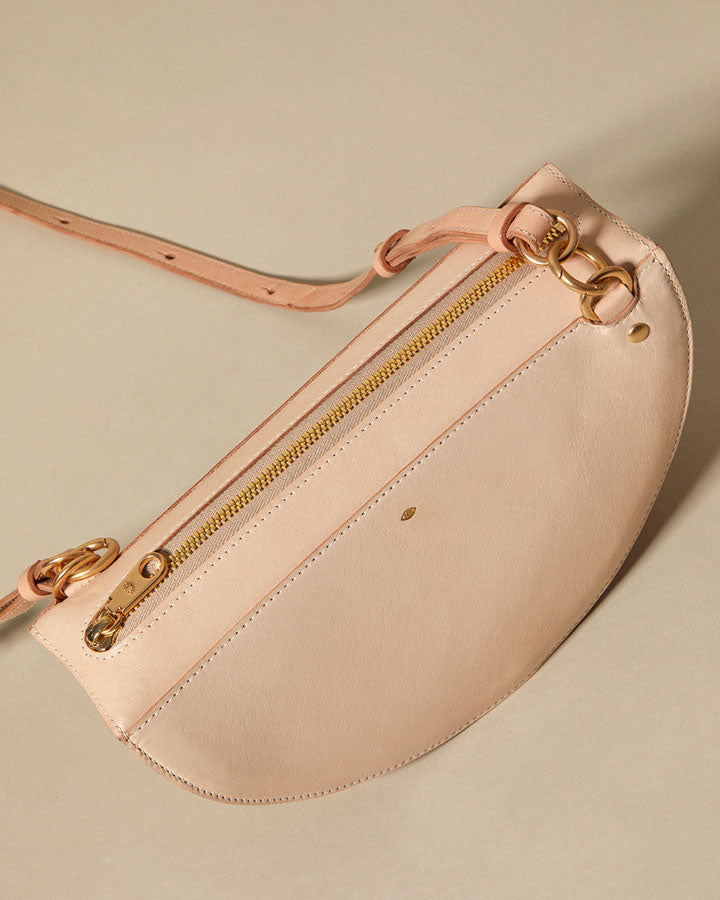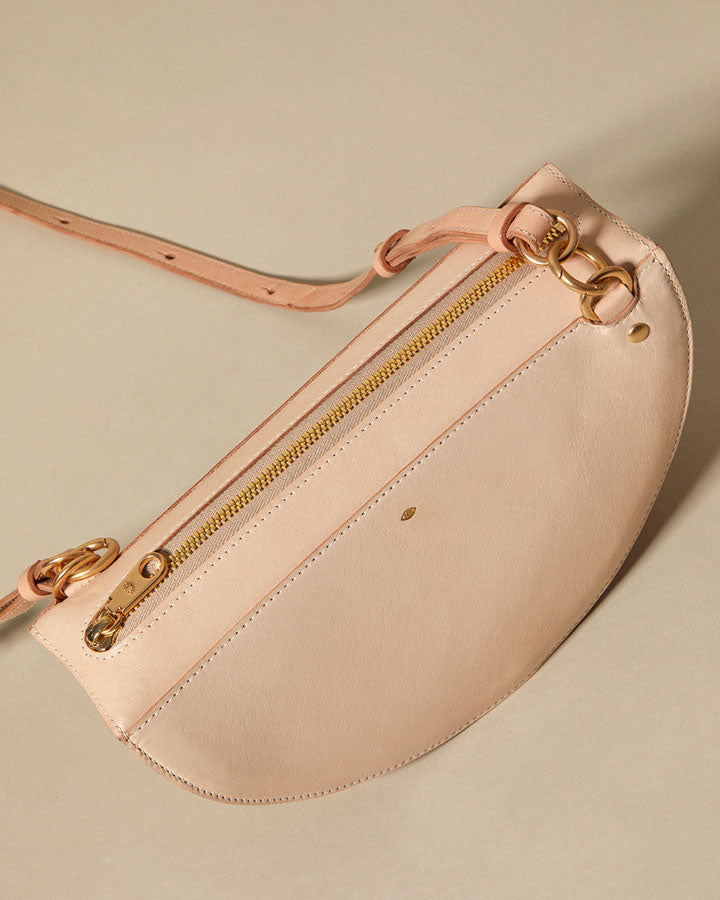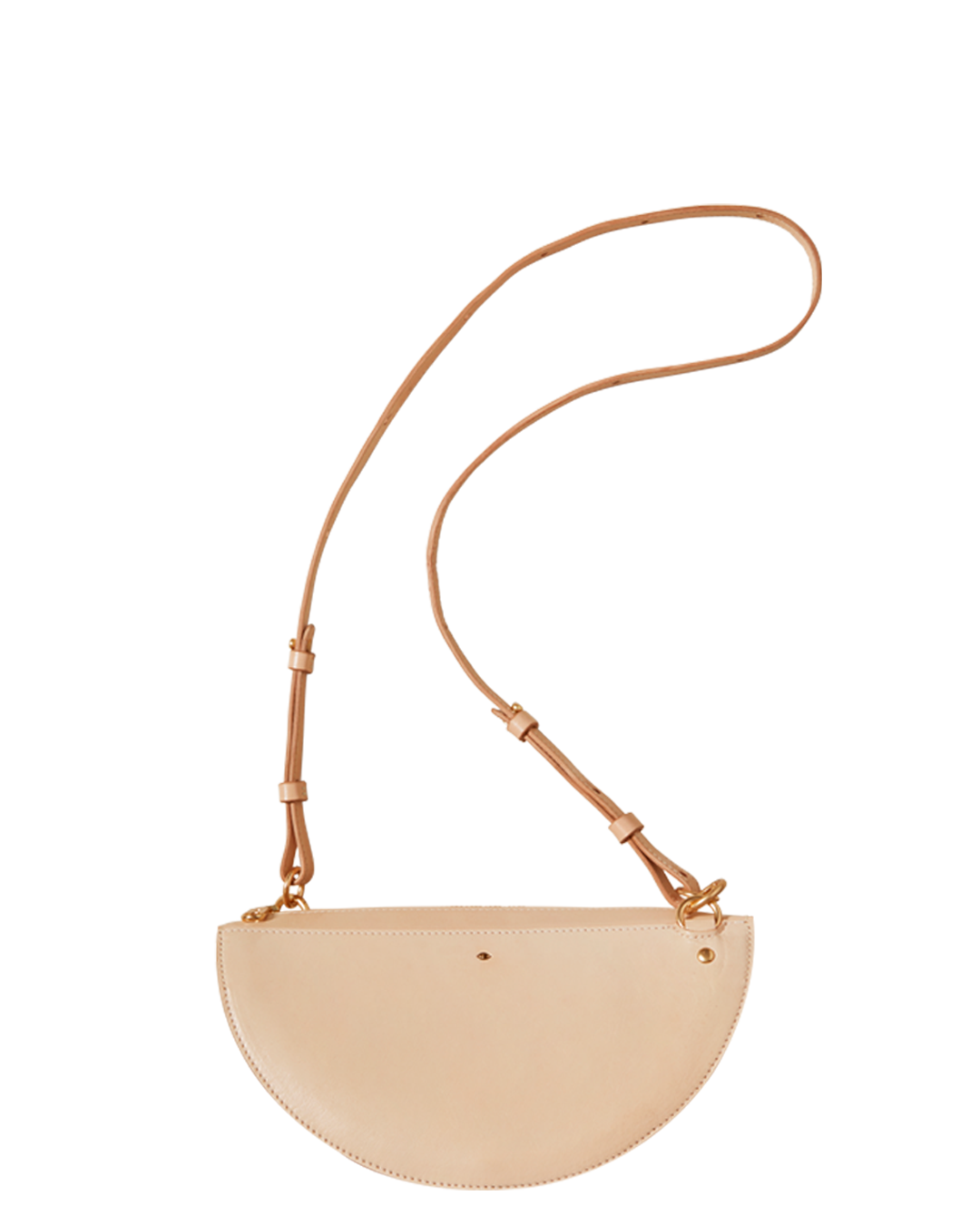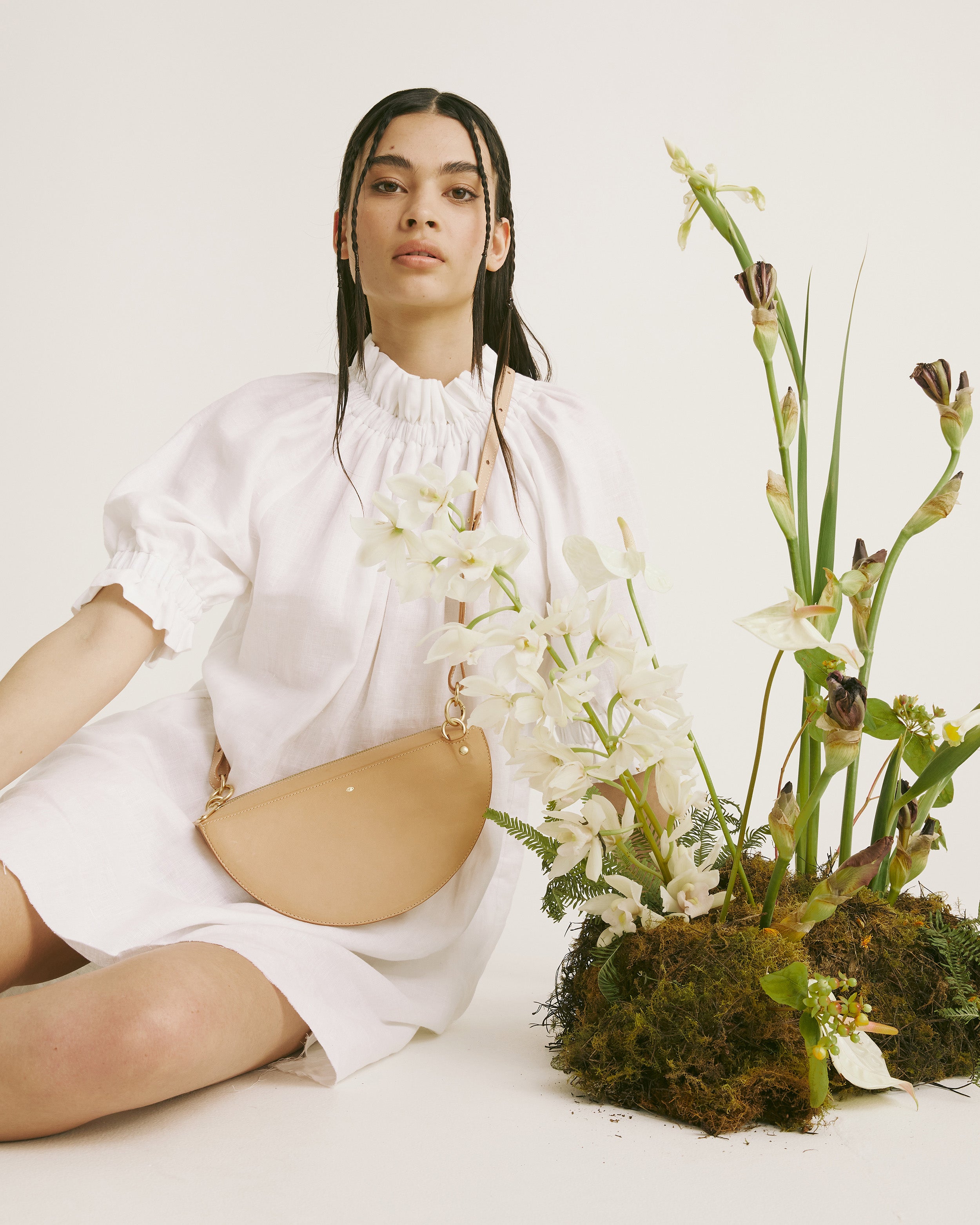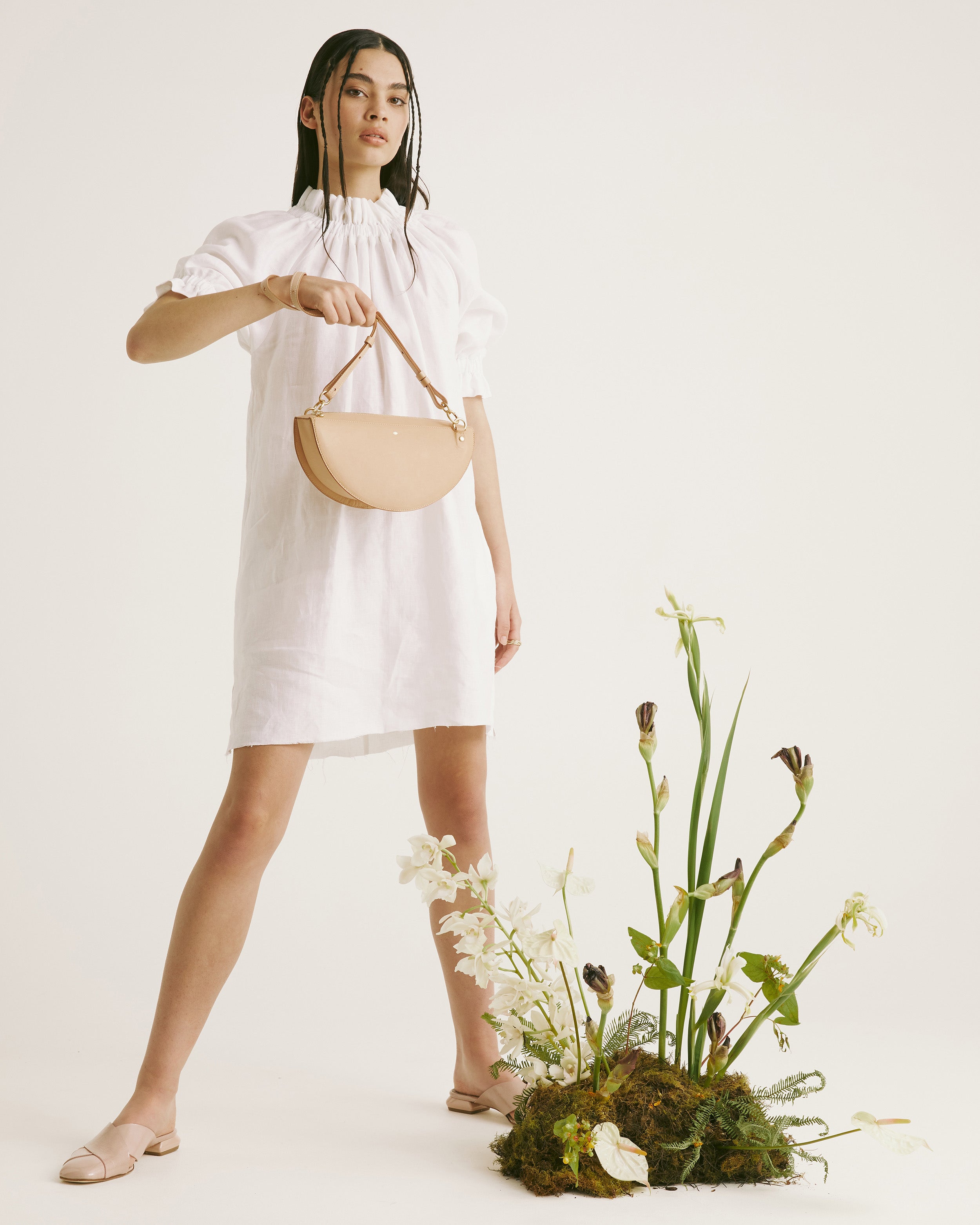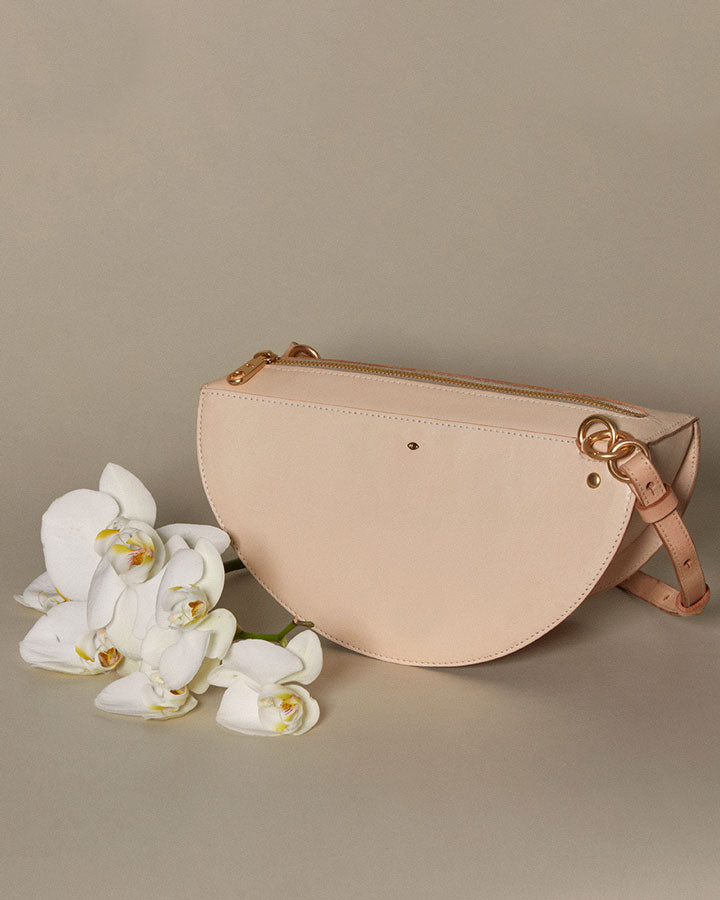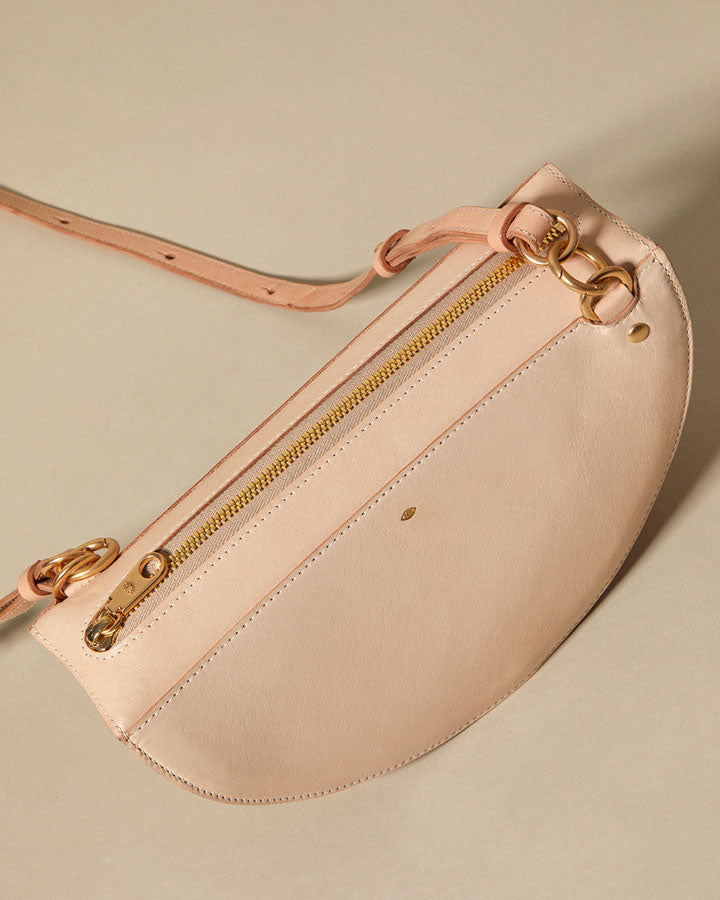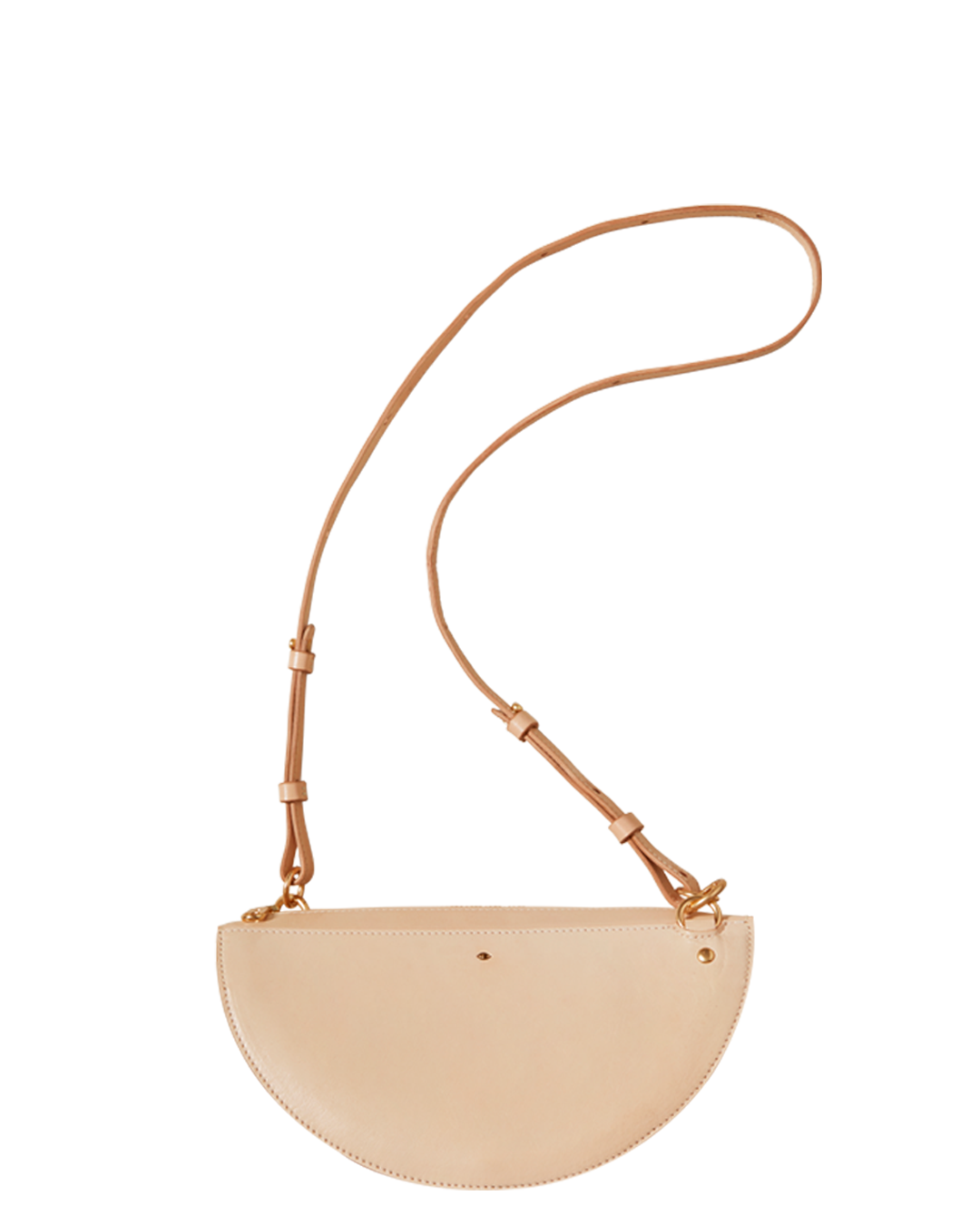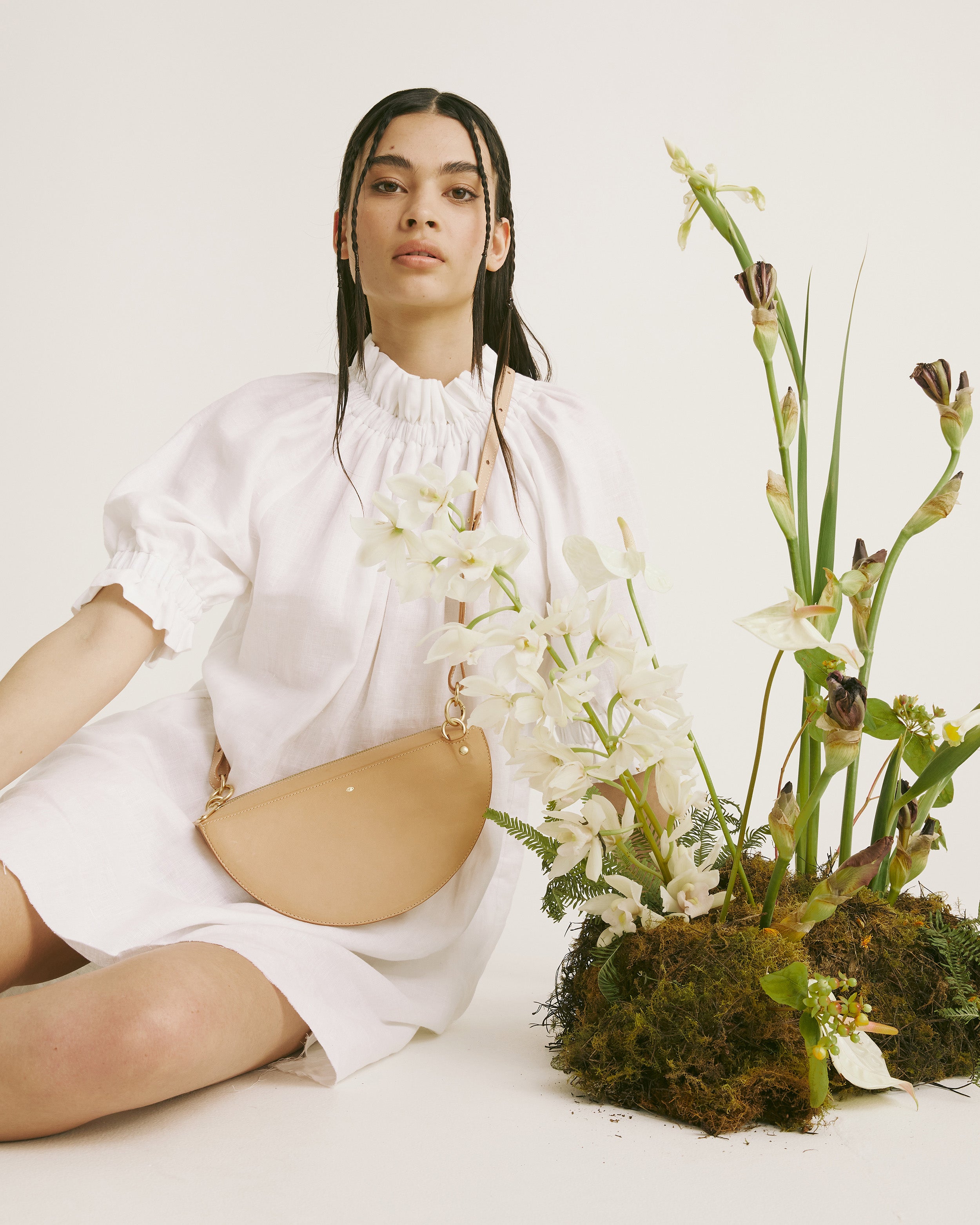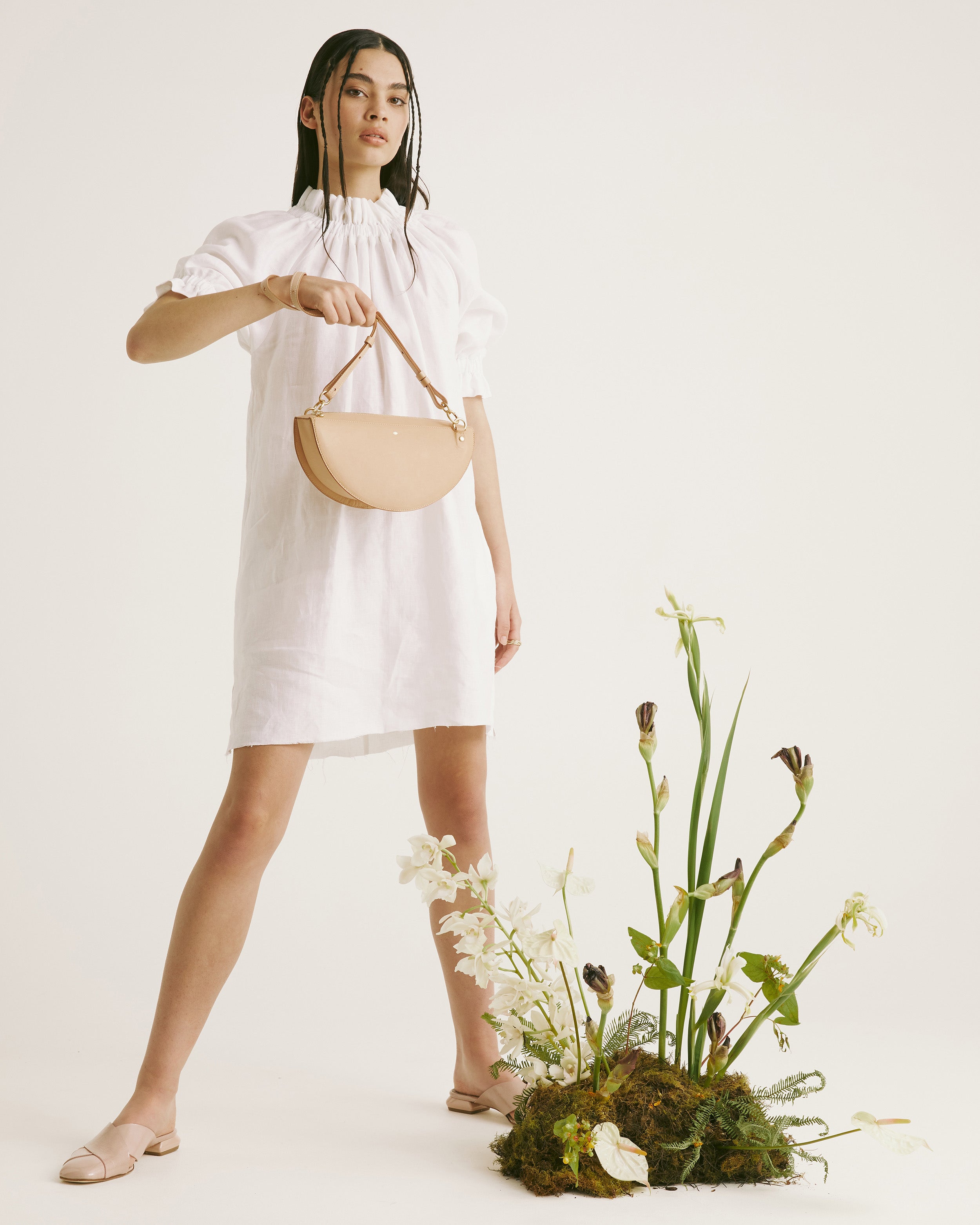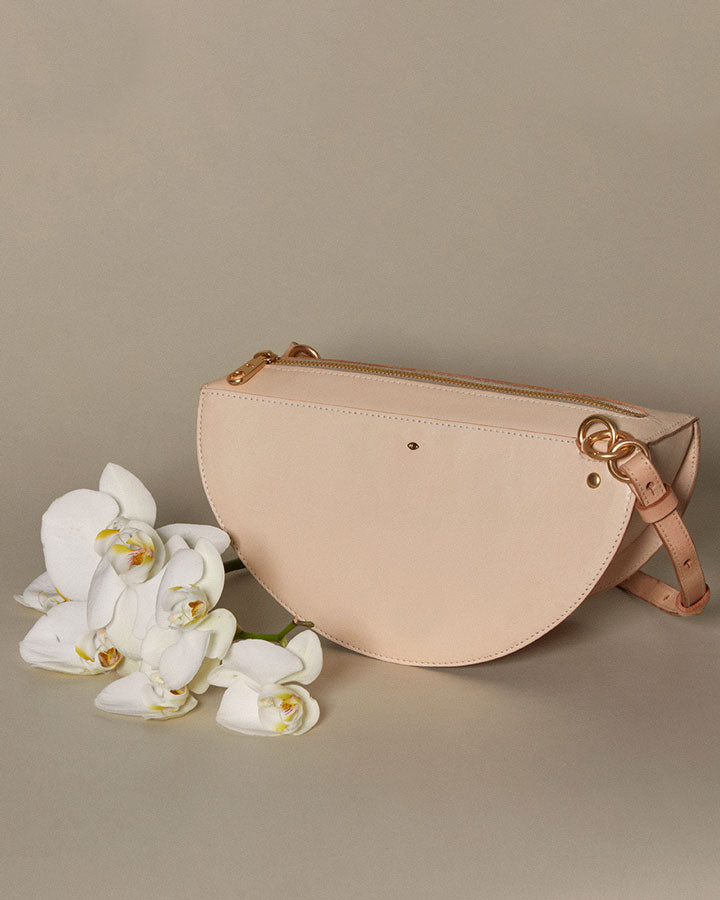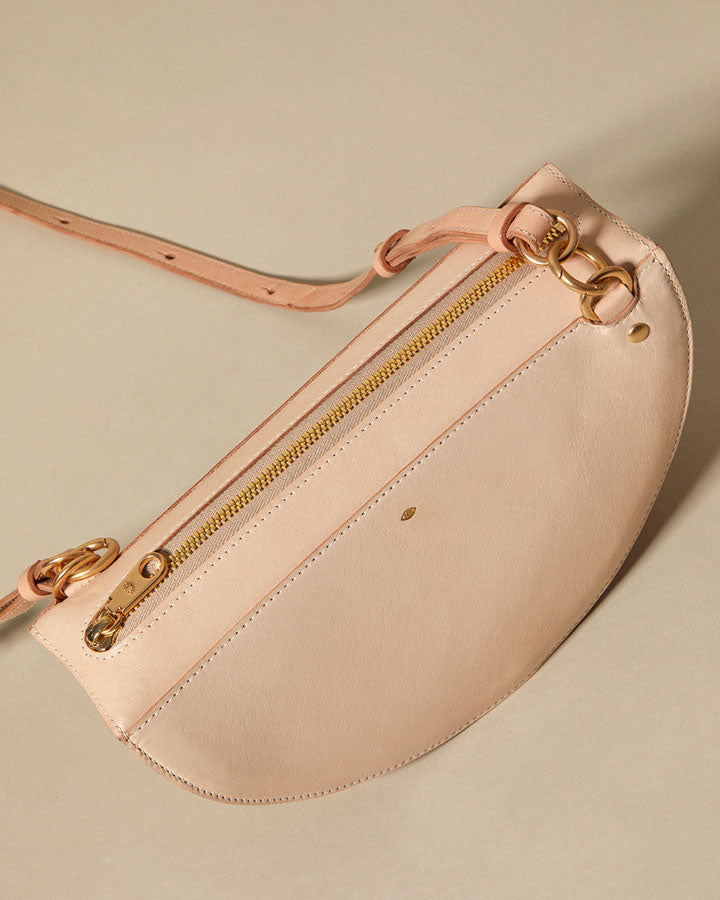 thick crescent moon bag / natural
A thicker update on our slimmer crescent moon bags, this is the perfect bag for your weekend affairs. Undyed to keep it's natural leather colour, and a top zip closure, this is suitable for your phone, keys, eyewear, and xs crescent moon pouch or other small wallet. Wear it across the body or over the shoulder.

- Australian vegetable tanned wild kangaroo leather
- Fully leather lined
- Interlined with reconstituted vegetable tanned leather, a sustainable & natural material we use to reinforce the bags shape
- Cotton zips
- Gold-tone zinc alloy hardware
- For your plus sized phone, keys, passport, and small wallet
- Adjustable narrow strap to compliment a clean aesthetic
- Longest length 128cm
- Shortest length 74cm
- Designed and handcrafted in Melbourne, Australia

Size: W26cm x H13cm x D10cm
Images of Bisaahr styled with the Full Moon Mirror Charm.
Made to order delivery is up to 4 weeks, or if in stock then ready to ship delivery is in 3-6 business days in AU. Find out more.
Are you ordering this as a gift? Let us know any personal messages you would like us to handwrite in the checkout notes.
Such a beautiful bag
hello Simone, I received the beautiful lavender moon bag the other day & you have done a wonderful job. What a lovely colour..Both sides of the straps can be changed, allowing for a balanced adjustment - great idea! Thanks so very much.
SO BEAUTIFUL
I am completely obsessed with my thick crescent moon bag!
It's so beautiful and light weight. It's the perfect colour of tan leather and the perfect size…
Thank you so much xoxoxo
Gorgeous quality for a lasting work of art
It's hard not to gush about this bag, because it sparks so much joy every time I use it. Everything about it - from the sleek, minimalist design to the beautiful craftsmanship - speaks to its quality and functionality. It's the perfect size for all the essentials (small wallet/card holder, phone, sunglasses case and keys) without being weighed down, and elevates every outfit. The matte dark leather is so much lighter in weight than cow leather and is offset beautifully by the gold hardware and detailing. Also, Simone's customer service was top notch - I had a lot of questions about the products and crafting process, and she was very generous with her knowledge as she showed me around the atelier. I highly recommend this beautiful bag and any of simétrie's products - you'll be owning a work of art that will last many years to come.
Perfection
I finally gifted myself the thick crescent moon in Night after having my eye on it for a few years,and I am so happy I did. It is the perfect little black bag that my wardrobe had been missing.
It's such a beautiful,classic piece and the workmanship is immaculate! Simone and her team are incredible craftspeople.
I feel so special everytime I wear it, I just adore it!
Thanks so much Madeline, I am so happy you love it! ~ simone x
Simply Beautiful
My thick crescent moon bag in olive arrived today.....even the box it came in was perfect.
I have unpacked it, adjusted the strap and now just being amazed at how much it holds...all my daily essentials are in with room to spare.
The design, feel of the leather,colour and stitching as well as overall look are all tops for me and the craftspeople who handmade it for me did wonderful work.
Thanks Simone and all at Simétrie
Thank you so much for your feedback! So glad you love your thick crescent moon Theresa, we loved making it for you. ~ simone x
The perfect bag
I cannot say enough good things about my thick crescent moon bag. The proportions are perfect and it looks beautiful from any angle. The leather is beautiful & surprisingly light. It's fun & easy to wear.
Simone and her team of craftswomen are so talented and a real pleasure to work with. It was so cool to see the making of my bag along the way. It gives you a new appreciation for the work that goes into making this wearable art.
I also added the crescent moon card charm. It looks lovely hanging from the corner of the bag and makes accessing my daily card simple!
Thanks again, Simone!
Thank you for the review Taylor, so happy you love your bag. We loved making this for you.