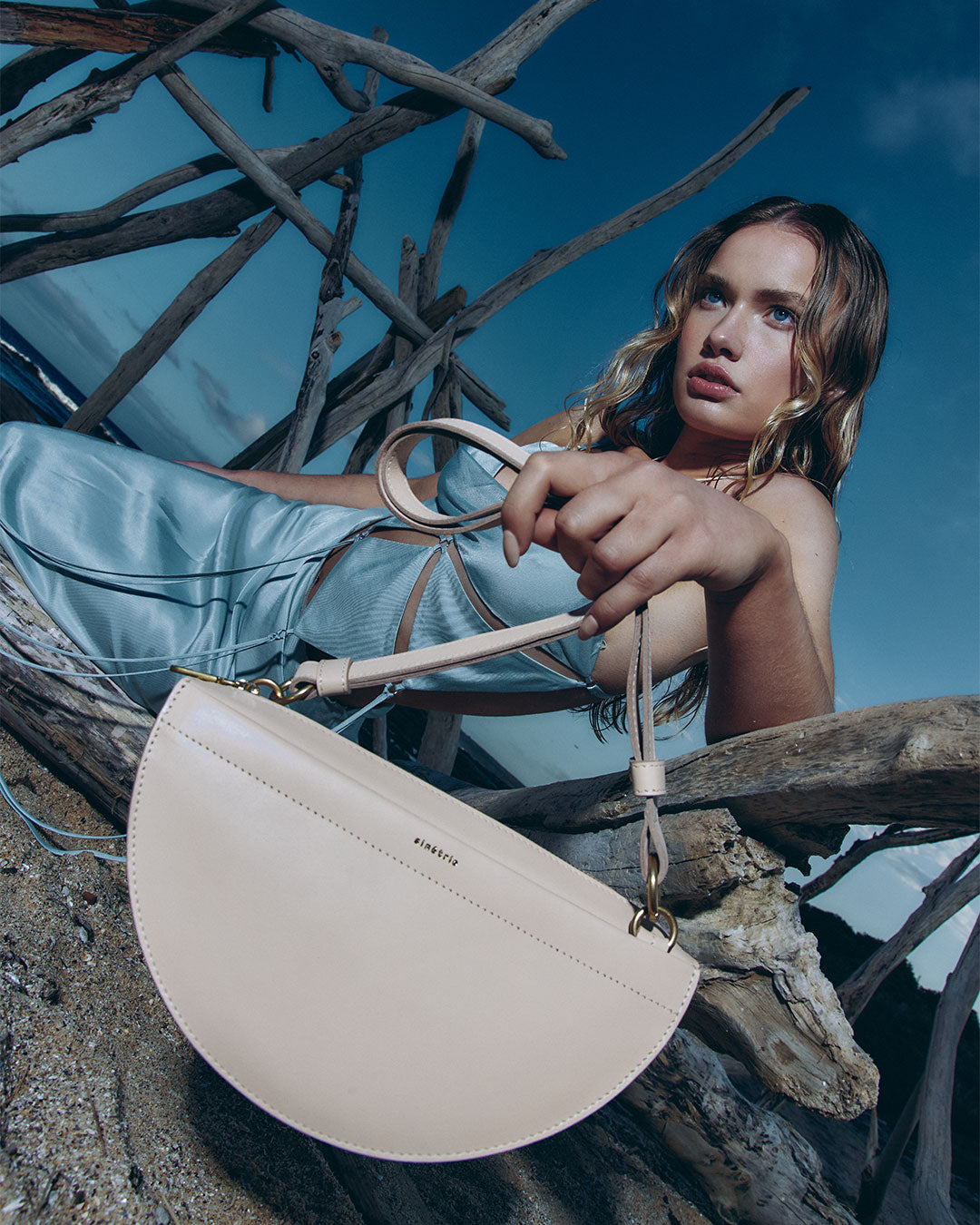 balancing aesthetics with ethics
We balance the human desire for style with our impact on the earth.
We do this from our Brunswick based atelier, through our educational leather craft workshops & the beautiful products we handcraft for sale. We aim to empower people through the power of connection, craft and creativity.
At simétrie, we create natural leather goods that are timeless, using the most sustainable materials available that ensure a quality handbag that is safe for people & the planet. All of our wares are handcrafted in Melbourne by Simone and local craftswomen who are paid fairly in exchange for their skilled craftsmanship. Read more on this below under 'fair pay'.
We do this because we know that our planet and humans have been exploited by the fast fashion manufacturing process for too long. The facts are very clear that the industry is taking too much from the environment and human resources to fuel the ever-growing desire to consume fashion products.
Our response to this is to be a "slow" fashion business ~ to handcraft everlasting handbag designs, empower our people through education and self-advocacy, and use the most responsible materials available to craft beautiful wares that our customers will love for many years to come.
Read more about the Fashion Revolution & our response here.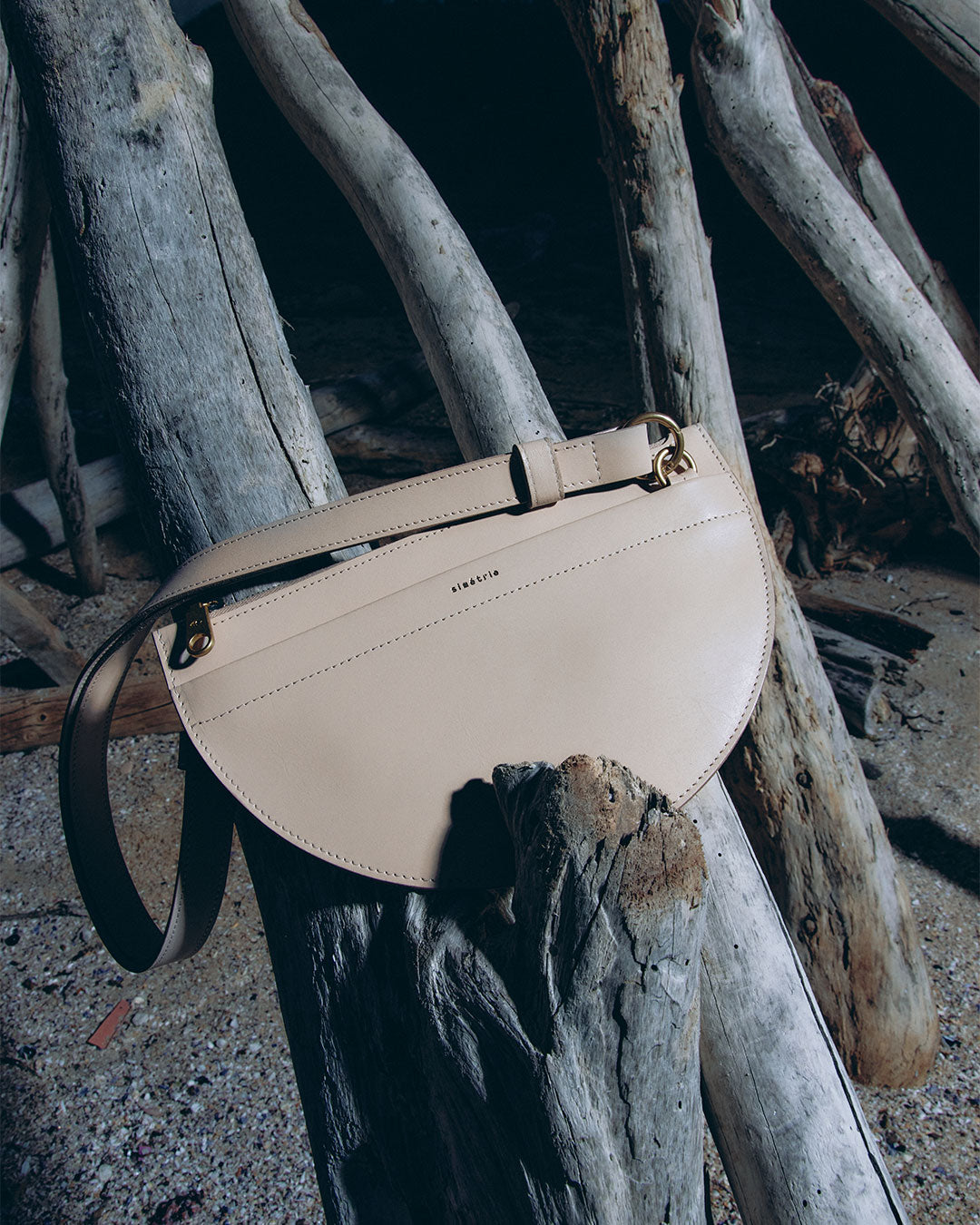 made from nature
The main materials of our goods are natural or water based, right down to the glues used to construct our handbags. That means they are not harmful to produce or use, nor do they present any dangers to our planet's soils or waterways.
The leather we use is either Australian Bovine leather or Australian vegetable tanned kangaroo which is a natural, low-emission leather that is harvested from necessary wildlife management. Read more on why we use vegetable tanned kangaroo leather here.
All of our bags are lined, either with the same vegetable tanned kangaroo leather, or a recycled hemp & organic cotton fabric.
Our canvas range consists of organic hemp & linen. Hemp is a superior fibre as it grows without pesticides & takes much less water to grow than cotton & other natural fibres.
our take on plastic
The visible materials aren't the only parts that create a handbag. Handbags need structure - which means there are hidden materials that reinforce the bag in between the lining and the exterior panels.
We use a reinforcement that is reconstituted vegetable tanned leather, bonded together using natural latex and animal fats. This is a natural and durable material that strengthens and gives structure to our larger designs.
Most bag brands do not disclose what their reinforcement materials are. They are are commonly PVC, PU, PP or Polyester - ie. riddled with plastic - which all contain petrochemicals to varying toxicity.
Whilst we strive to be 100% derived from nature, we can't totally make that claim... but it is something like 99%. The only plastic components in our goods are the threads we use to construct them - these are made from nylon. We've tried and tested many ways to machine sew with 100% cotton threads, yet they were not strong enough. One benefit of the plastic in our thread content is that it is a longer lasting stitch, and less repairs would be required over the bags lifetime of use.
Whilst we can't claim that all of our raw materials are 100% perfect for a long term solution, we believe leather sourced locally and sustainably is the best one for now as it is natural and long lasting and keeps our goods in circulation. The plant based alternatives available often contain plastic, which would result in microplastics or landfill in a much shorter timeframe than leather. As a small brand, 100% plant based leather alternatives are not easily accessible, but we believe every step in right direction makes a difference.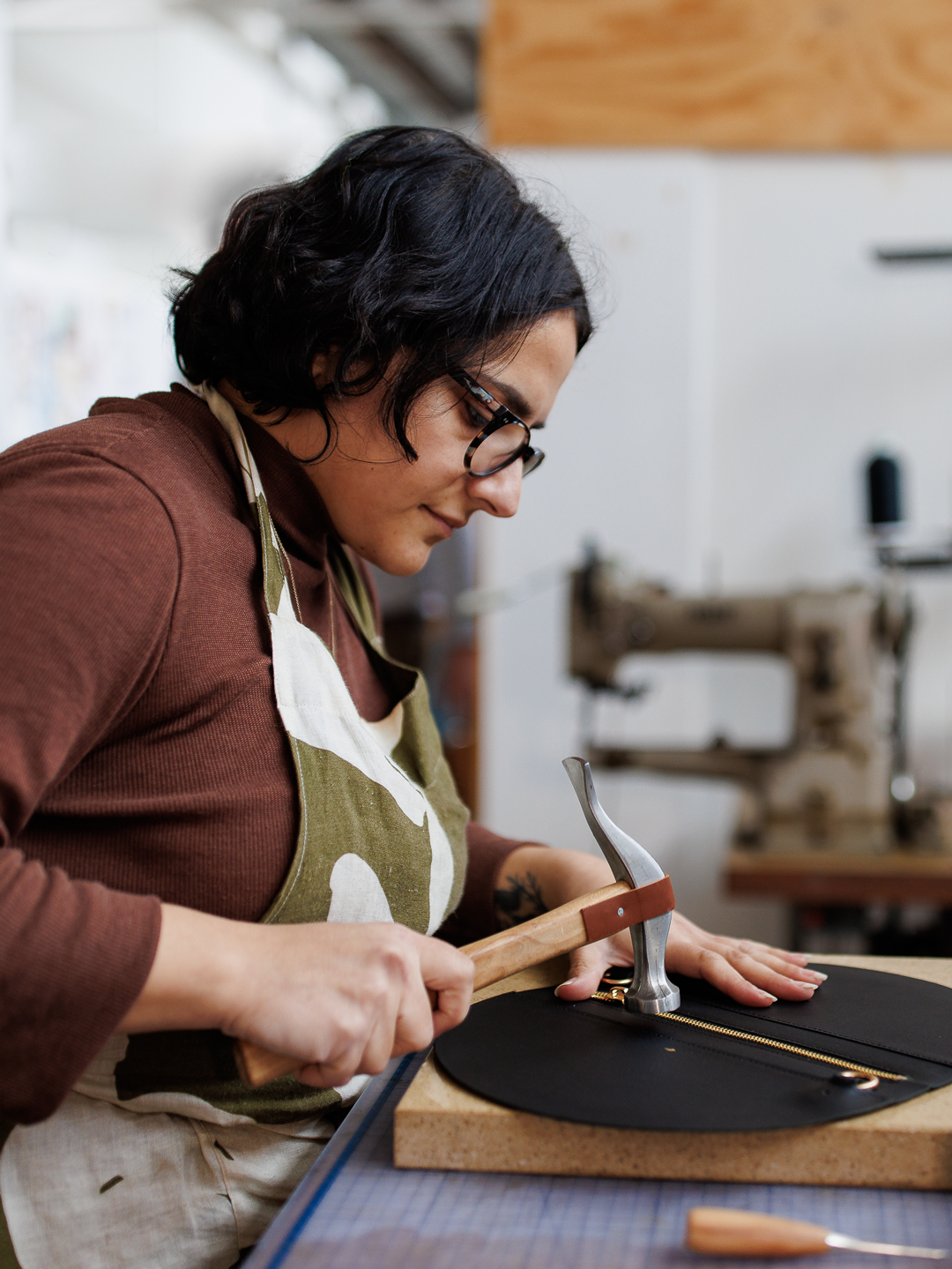 creation
Everyone should experience the feeling of creation, because when we create something ourselves – we feel good and treasure it for longer, if not forever.
Simone has been offering bag-making workshops at our Brunswick studio since she started the business in January 2019 with the aim to educate and empower all people who desire to learn new creative skills.  Not only does this aim to teach people new creative skills, but new knowledge about the value of the labour that goes into making all of our handcrafted pieces.
Since COVID-19 we have adapted our workshops to the online format so you can now learn to create a piece of simétrie from home through our MADE FROM HOME kits.
All workshops & kits are suitable for beginners with no prior leather experience, as well as experienced individuals who wish to flourish with new challenges too.
Come and create with us here.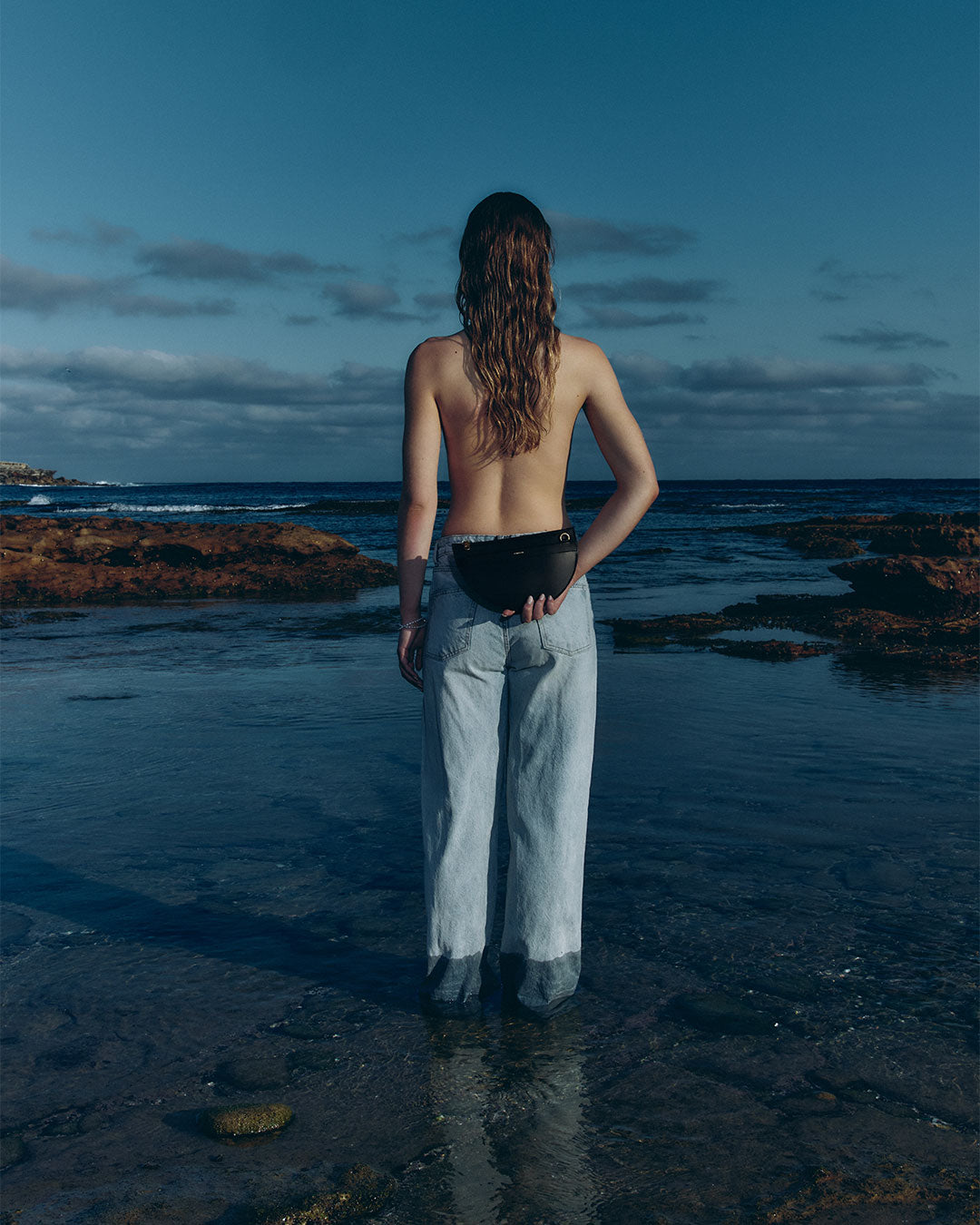 slow
The human desire to express ourselves through fashion is important. It allows us to show the world who we perceive ourselves to be. However, the impact that fast fashion & overproduction is having on our planet is at crisis stage.
It is well documented that the fashion manufacturing process is putting an unprecedented amount of pressure on our planet's resources in a bid to fuel the ever-growing desire to consume fashion products.
To combat this we aim to create handcrafted goods that support fair wages and responsible materials, all while being beautiful and timeless, so you can enjoy your goods from season to season without the need to continuously update.
We also guarantee our quality & craftswomanship with complimentary repairs for life. So you can love our wares for longer, saving them from landfills.
Consume less and consume well.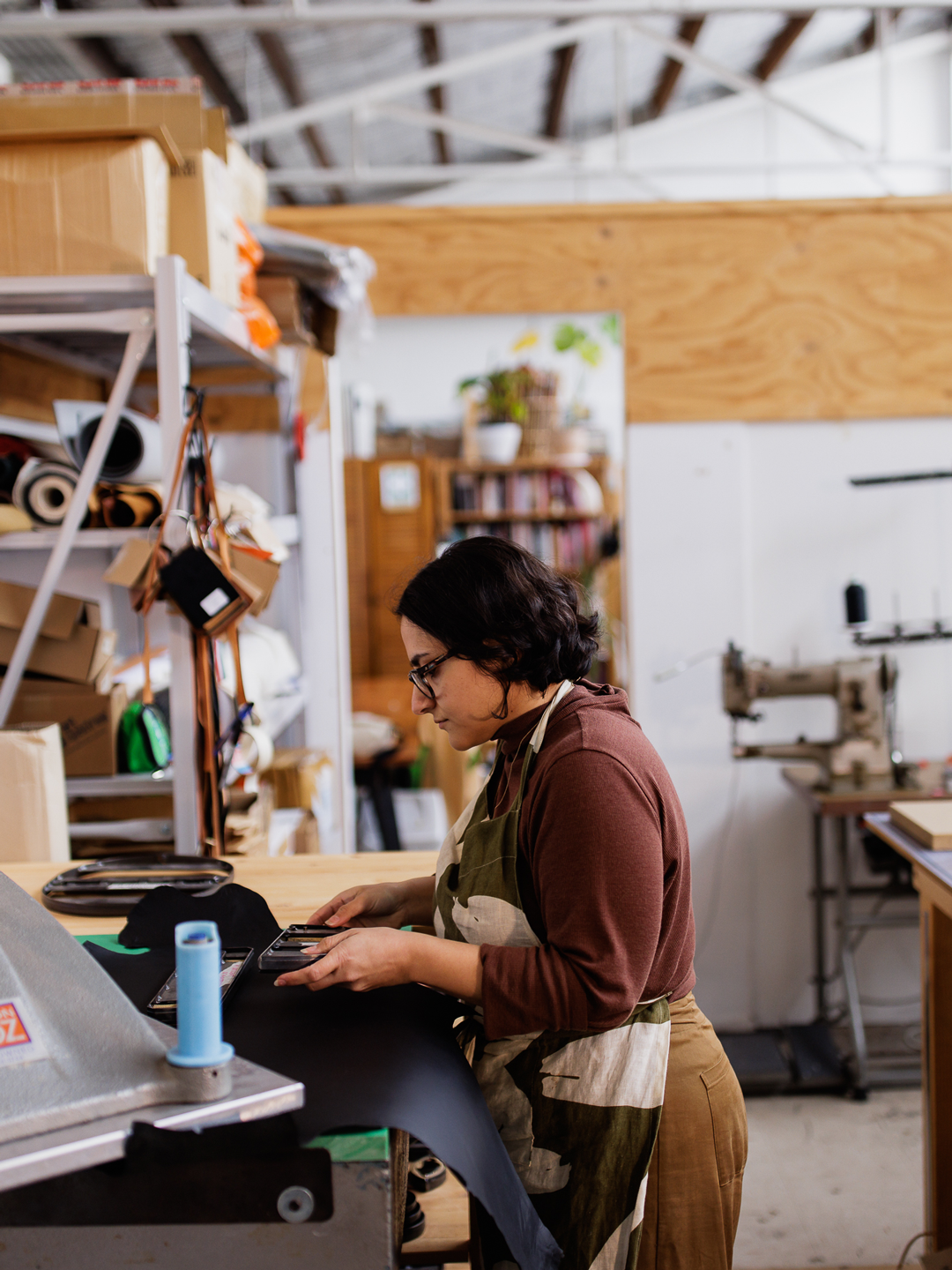 fair pay
One of the greatest exploitations of the fashion industry is the low wages that are paid for the workers who make our clothes, and in our case, make our accessories.
All of our leathergoods are produced in-house by Simone and her team of leather craftswomen. We take pride in paying a fair, above minimum, hourly rate to our in-house workers [our in-house team is never subject to a piece rate].
Find out more about our craftswomen here.